As seen in The Denver Post
Widely-traveled plant expert, Kathy Keeler searches the globe for stories of the plant wonders of the world
Travel Notes from Kathy Keeler: A Wandering Botanist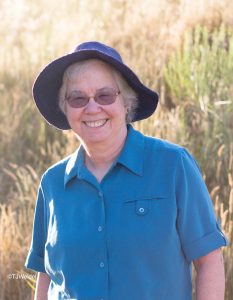 Plants have stories to tell. Their stories color and enrich our planet and elicit poetry in humans. 
Plants caution us, warn us, teach us, alarm us, feed us, comfort us, humor us, heal us and inform us of the earth's changes and transformations.
They mirror to us who we are and what kind of custodians we are to our homes, communities and land.
Plant stories have enthralled me for as long as I can remember and I am privileged to live a life where I can search them out and share them.
As a former Professor of Biological Sciences at the University of Nebraska-Lincoln, my specialties range from ant-plant interactions to grass genetics to studies of prairie plants.
Retired, I now pursue travel and history, endlessly fascinated by different places and times.
And, wherever I go, I am irresistibly drawn to plants.
On this website and on my blog  you can gain a deeper enjoyment of the natural world and discover information about plants that will delight and enchant you. In February 2017 my blog was chosen one of 50 Best Blogs for Botanists and Plant Scientists by feedspot.com http://blog.feedspot.com/botany_blogs/

BOOKS
New:  NoCo Notables. 15 Northern Colorado Plants Worth Knowing. Available from Amazon. Enhance your hike with stories of the conspicuous wild plants.

Curious Stories of Familiar Plants from Around the World by Kathy Keeler, A Wandering Botanist. Ordinary plants were drawn from around the world. These are some of their stories. Available from me  and on Amazon.com
AND Curious Stories of Familiar Garden Plants by Kathy Keeler, A Wandering Botanist -  available on Amazon.com  or from me. Things you might not know about ordinary garden plants.
UPCOMING EVENTS:
October 10, Tuesday A Wandering Botanist in Iceland, Loveland Public Library, noon, Gertrude Scott room, free. Starkly beautiful, Iceland has a rich history; very much a place to see!
November  14, Tuesday. A Wandering Botanist in Japan. Loveland Public Library Noon, Gertrude Scott Room, free. Japan is long chain of islands, with diverse habitats, along the coast of Asia. Westernized and Asian, like China and unlike it, Japan is a wonderful place to visit. This talk will feature the countryside more than Tokyo.
December 12, Tuesday. A Wandering Botanist in Hawaii. Loveland Public Library, Noon, Gertrude Scott Room, free. Hawaii is the 50th state, so an easy place to be a tourist, yet it is spectacular, with volcanoes, high mountains, tropical beaches and very very diverse tropical plants. I was there last January and many times before that: this is a general overview.
see also upcoming events page
AND/OR
If you are looking for someone who can
           relate the history of particular plants
           describe plant highlights of travel destinations
           untangle contradictions
           clarify technical language
           and more,
I am happy to answer your questions, talk about plant uses, history or geography, and lead walking tours of interesting plants.
Contact Me to find out out more about enriching your next event, meeting, tour or cruise with an adventure into the natural wonders of the plant world.
Kathy Keeler
 A Wandering Botanist

P.S.  As a special gift to my readers, I am giving a copy of my beautiful travel e-book: Autumn in Kyoto.